Recruiting a friend, we set off down the A82 to Tarbet on Loch Lomond. Leaving the car in the car park and grabbing an energy boosting hot chocolate at the Bonnie and Ben Cafe, we made our way down to the Pier.

Taking the morning boat from Tarbet, it was a half hour crossing to Inversnaid. This gave us plenty of time to make our next sailing at the Stronachlachar Pier.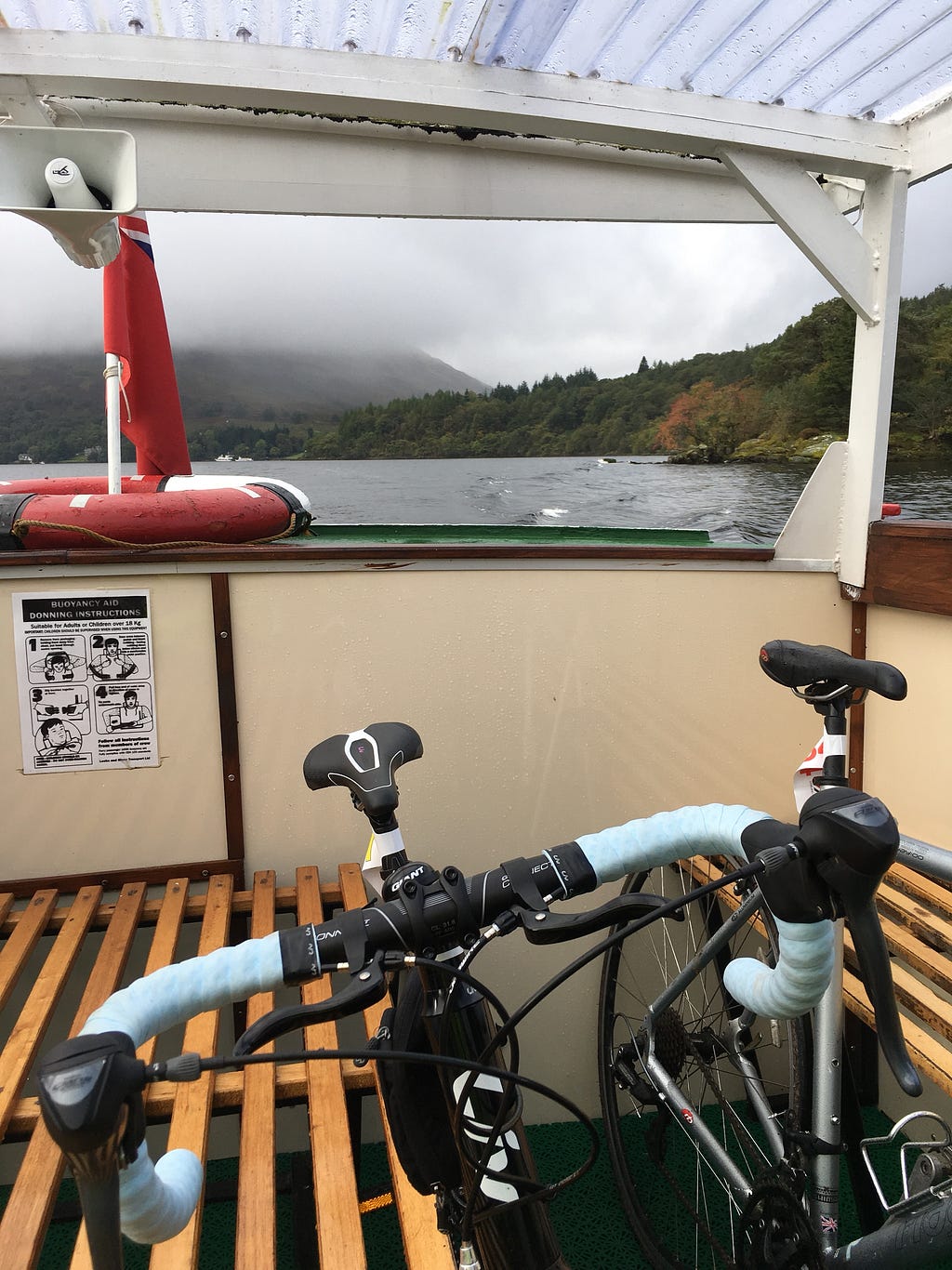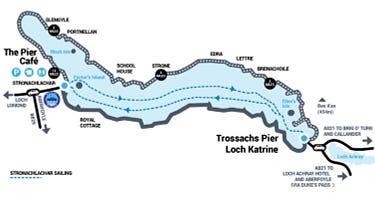 What a lovely way to spend the first half hour listening to Archie our skipper regale us with stories and history from the Loch. Archie also told us that he had cycled the 2 Lochs tour the year before and assured us that 33k was not that far!
View from The Inversnaid Hotel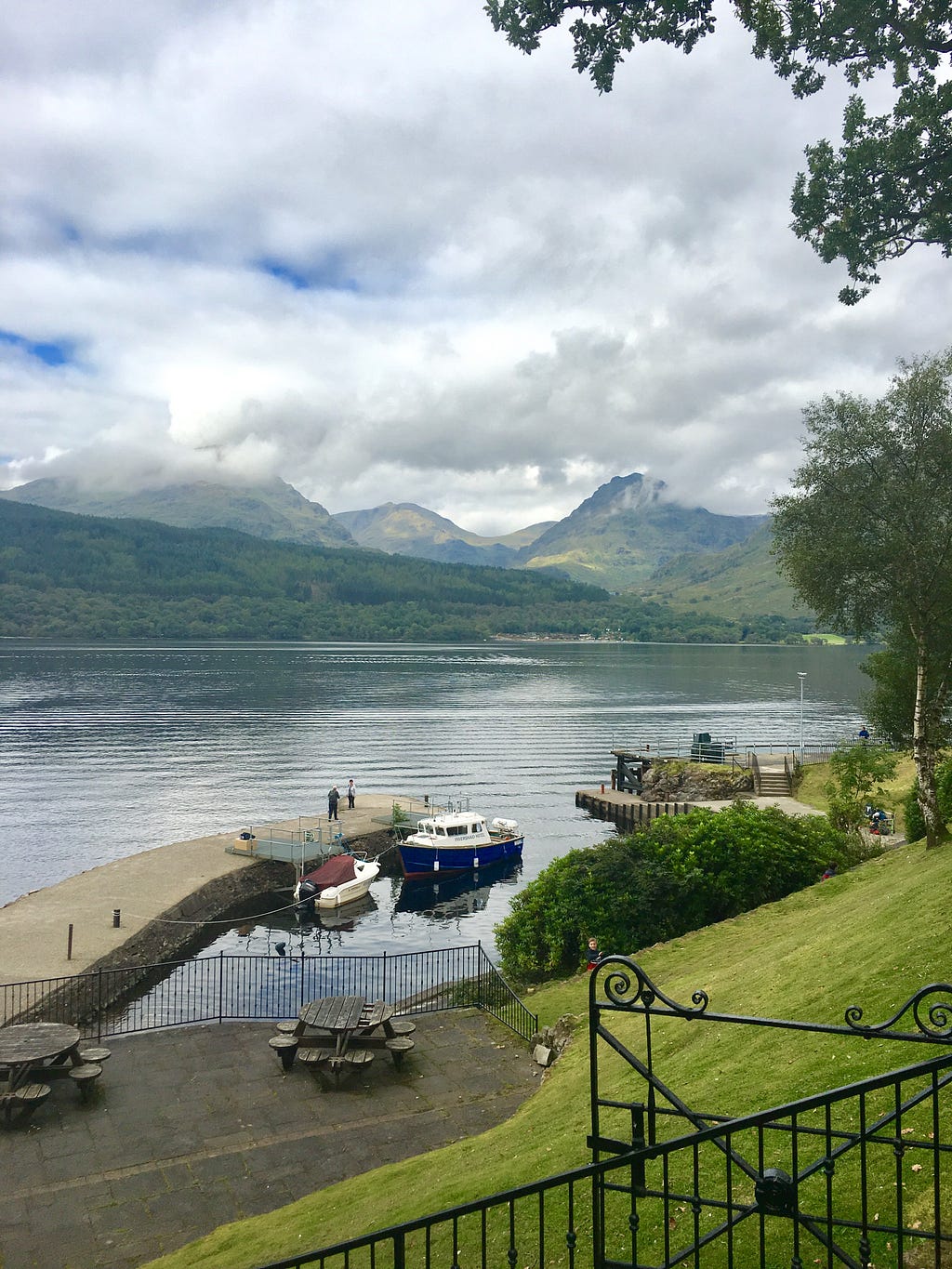 Disembarking at Inversnaid we made a quick toilet stop at the Inversnaid hotel, situated beside the beautiful Arklet waterfalls. Archie had warned us about the the very steep hill leaving Inversnaid, and boy, had he been right
Managing the first tight corner we had to admit defeat and pushing our bikes we huffed and puffed to the top. It didn't take long and once at the top we where able to catch our breath and enjoy the half hour cycle and 6k route down to Stronachlachar and our next boat to catch.
The Stronachlachar Pier Tea Room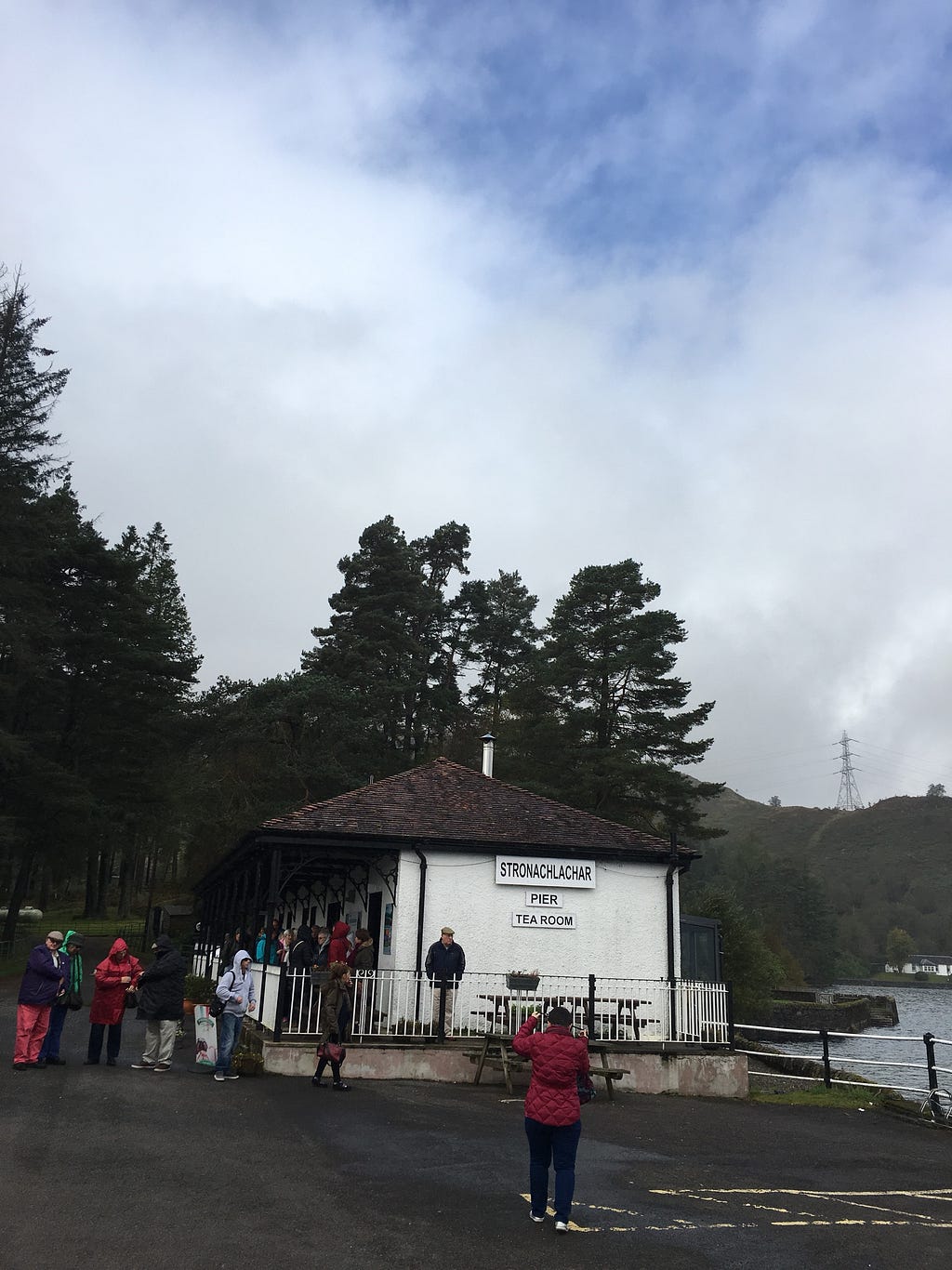 Grabbing a quick takeaway tea at the Stronachalar tea room we waited at the Pier for our next boat, The Sir Walter Scott steamboat. It was lovely watching it come into the pier, steam puffing gently out its funnels. We were joined by visitors from Lochs and Glens Holidays, who were very impressed with our grand day out and how far we were going to cycle!
The Sir Walter Scott Steam boat (photo courtesy of Loch Katrine Cruises)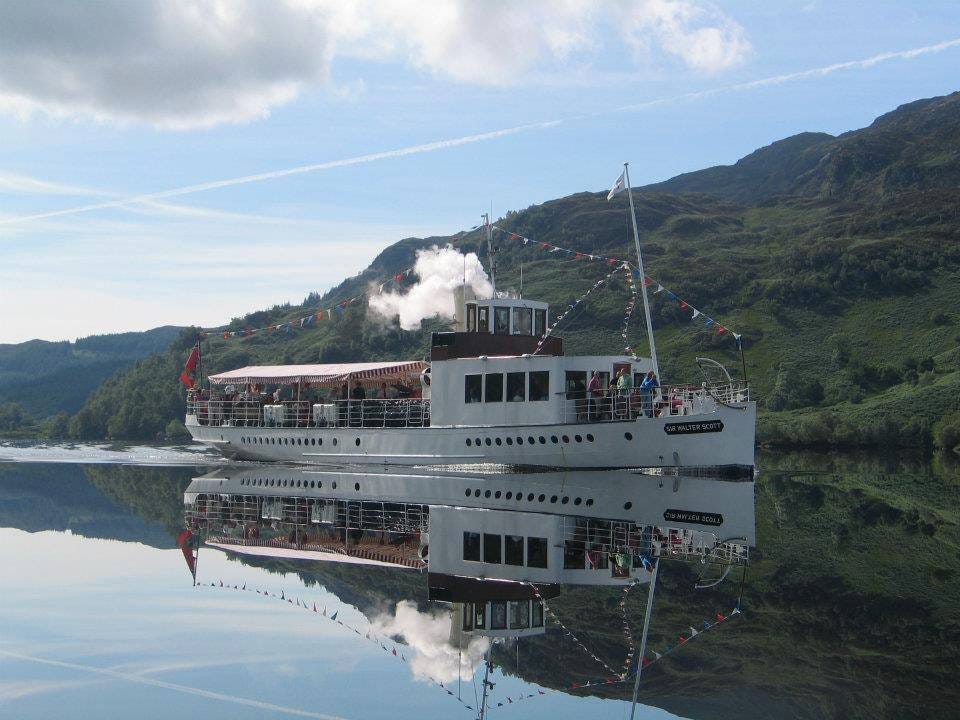 Having experienced many cruises on Loch Lomond it was lovely to enjoy a different area of the National Park. As a born and bred east coaster it was like putting different parts of the jigsaw together in respect of geography. I now knew what was behind Inversnaid and it was even better knowing I had got there by pedal power and not by car.
Views from The Sir Walter Scott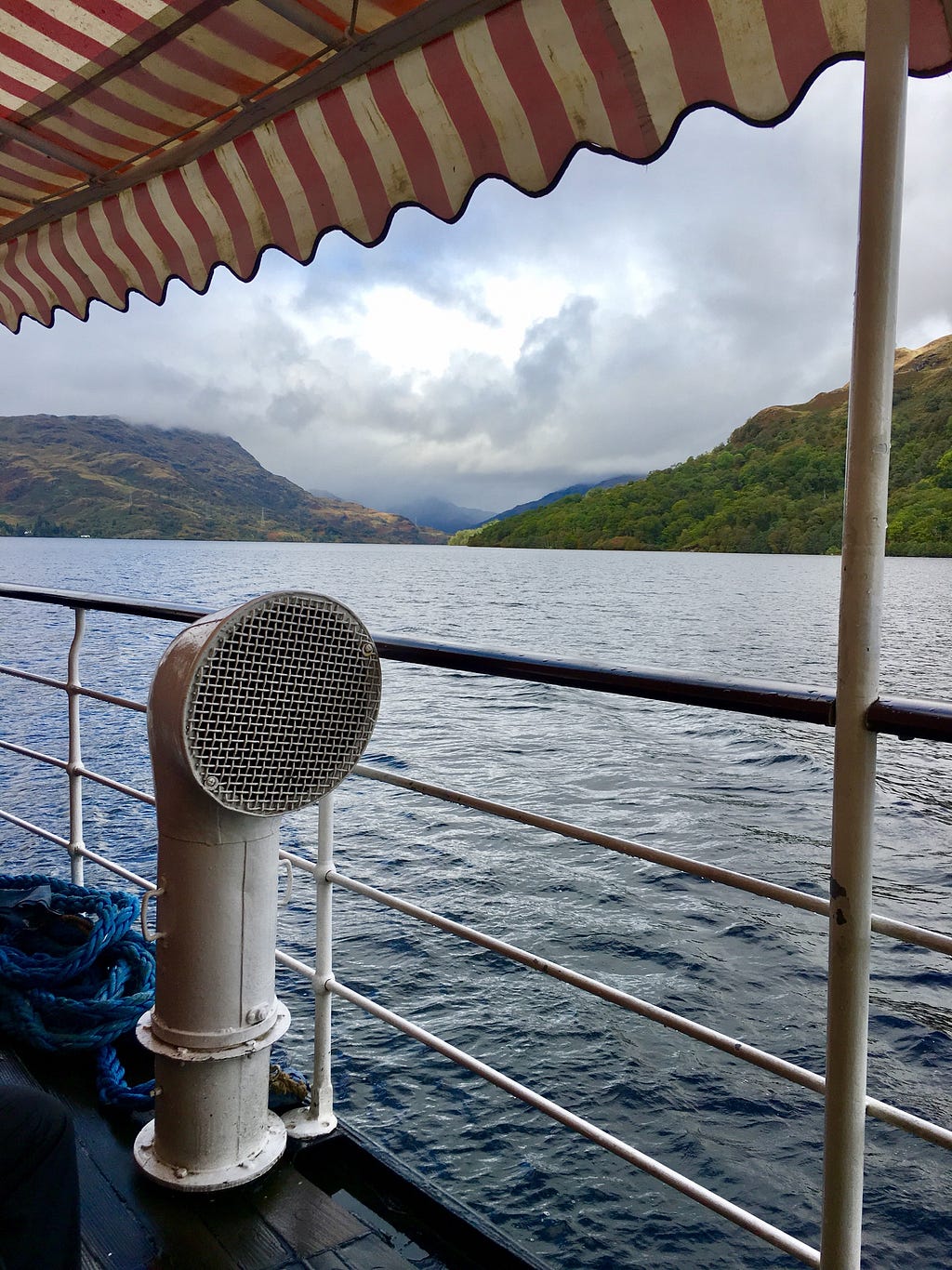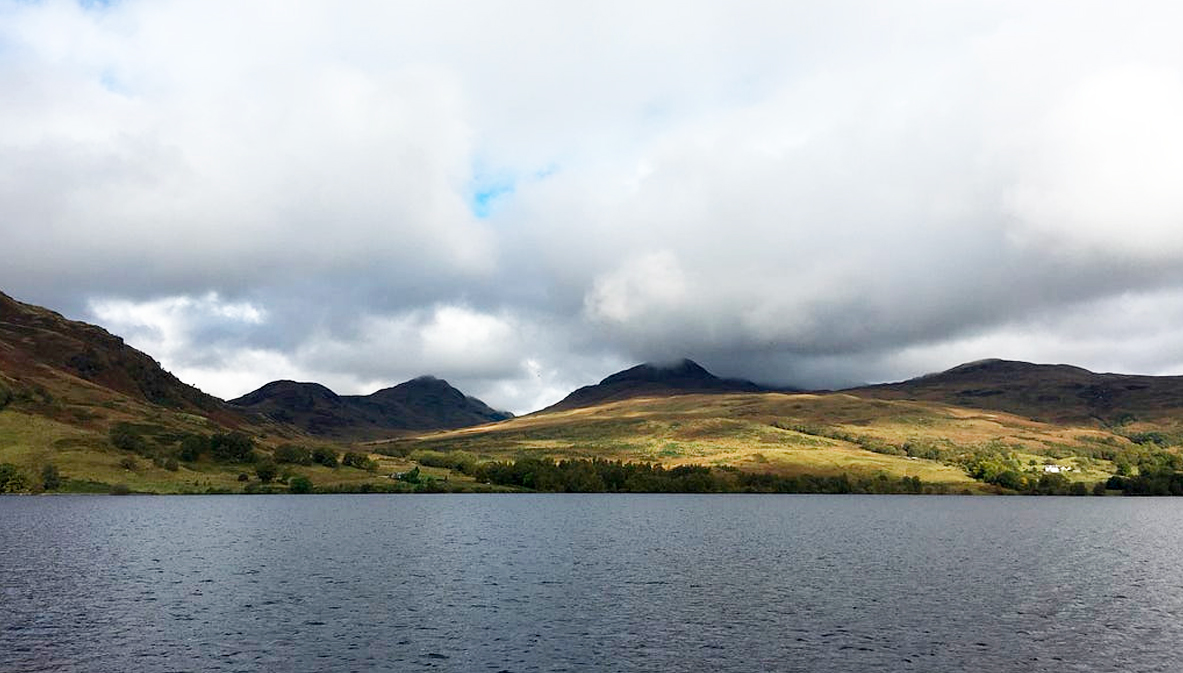 The cruise from Stronachlachar to the Trossachs Pier takes an hour and from the boat we could see the Loch side route that we would be cycling, all 33k of it!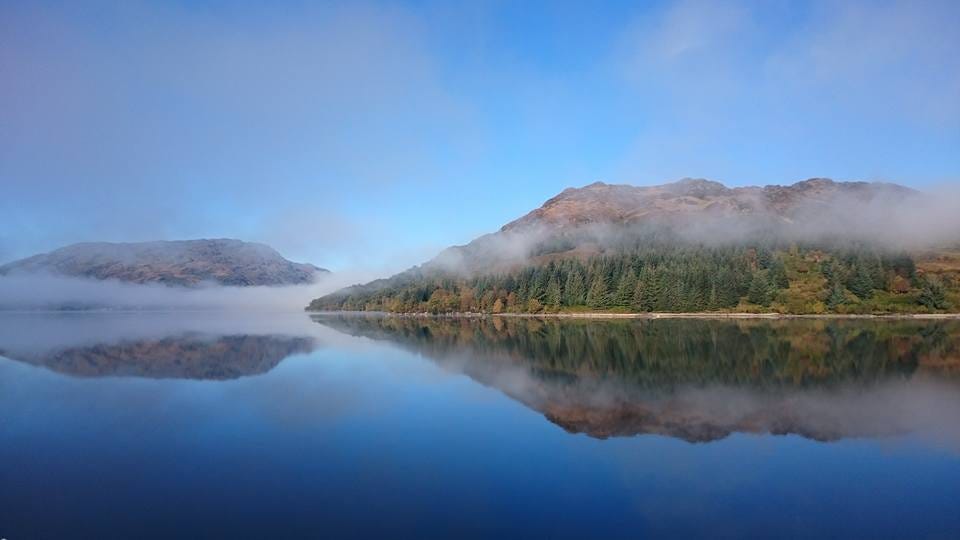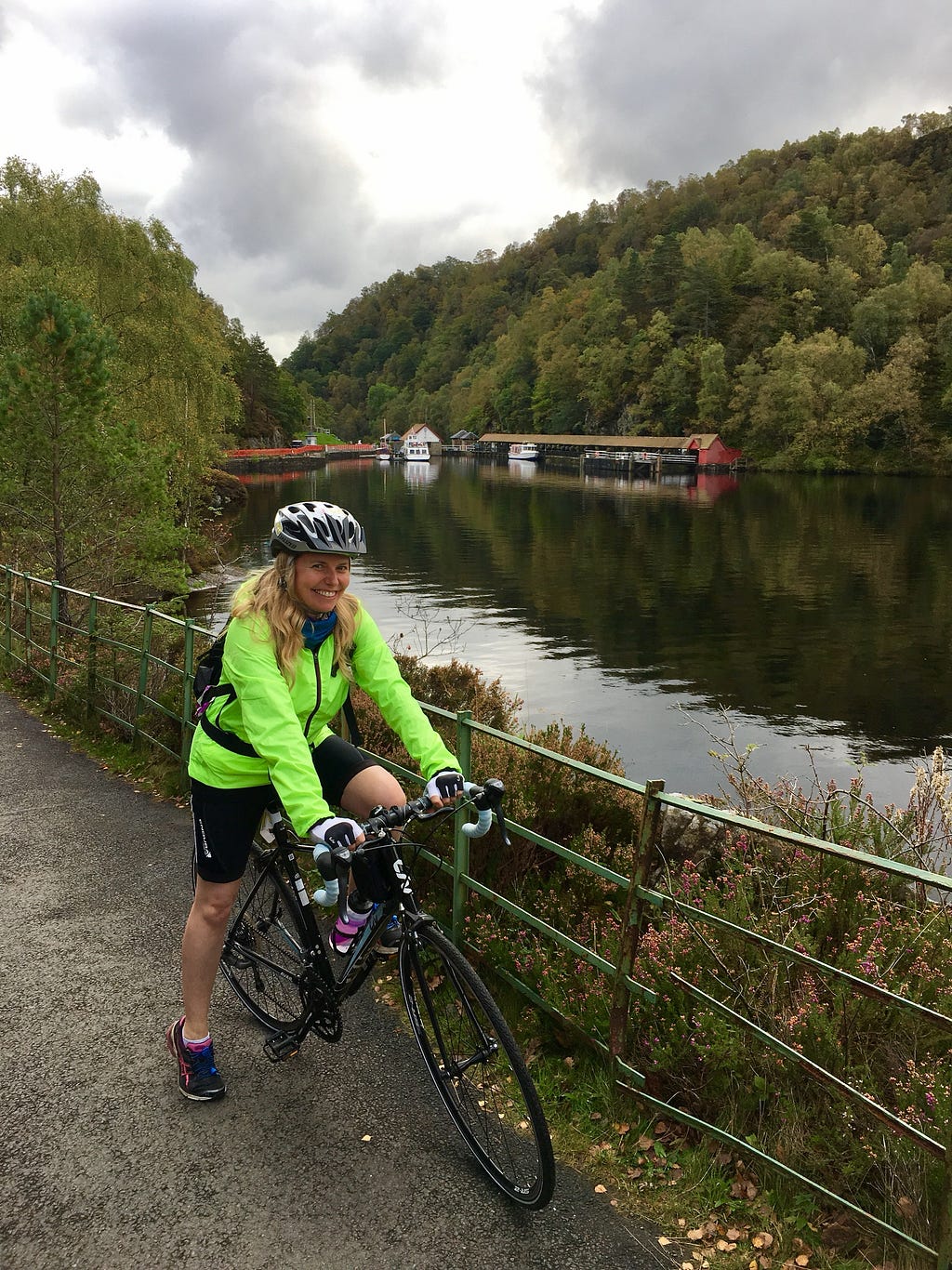 Setting off from the Trossachs Pier.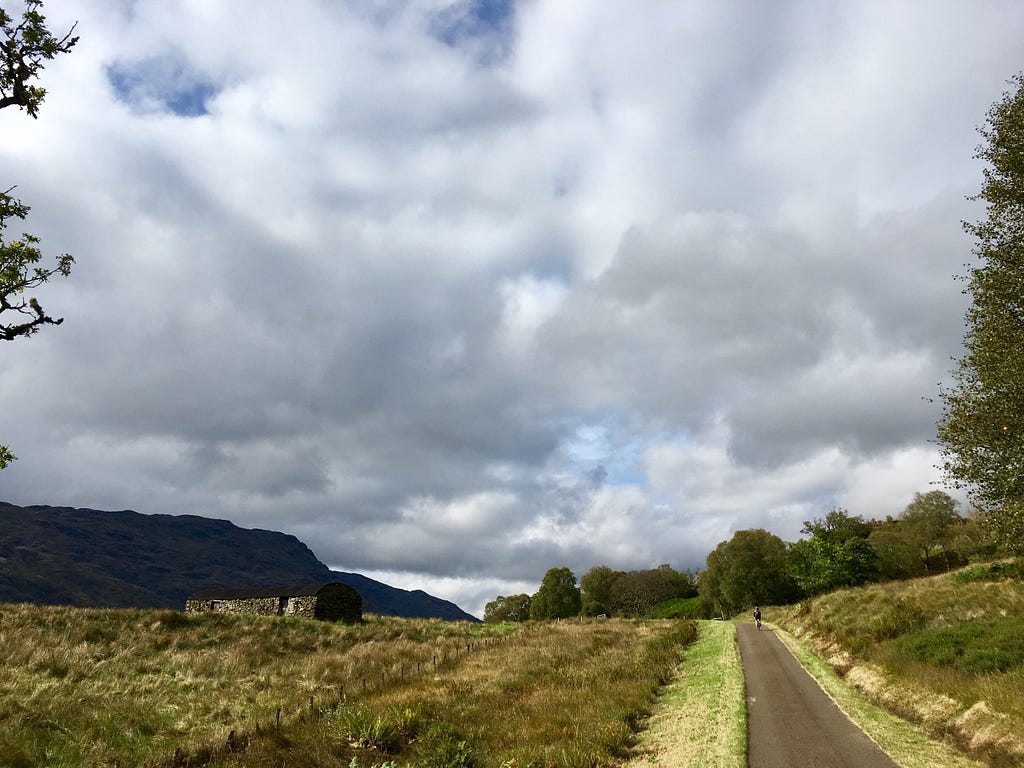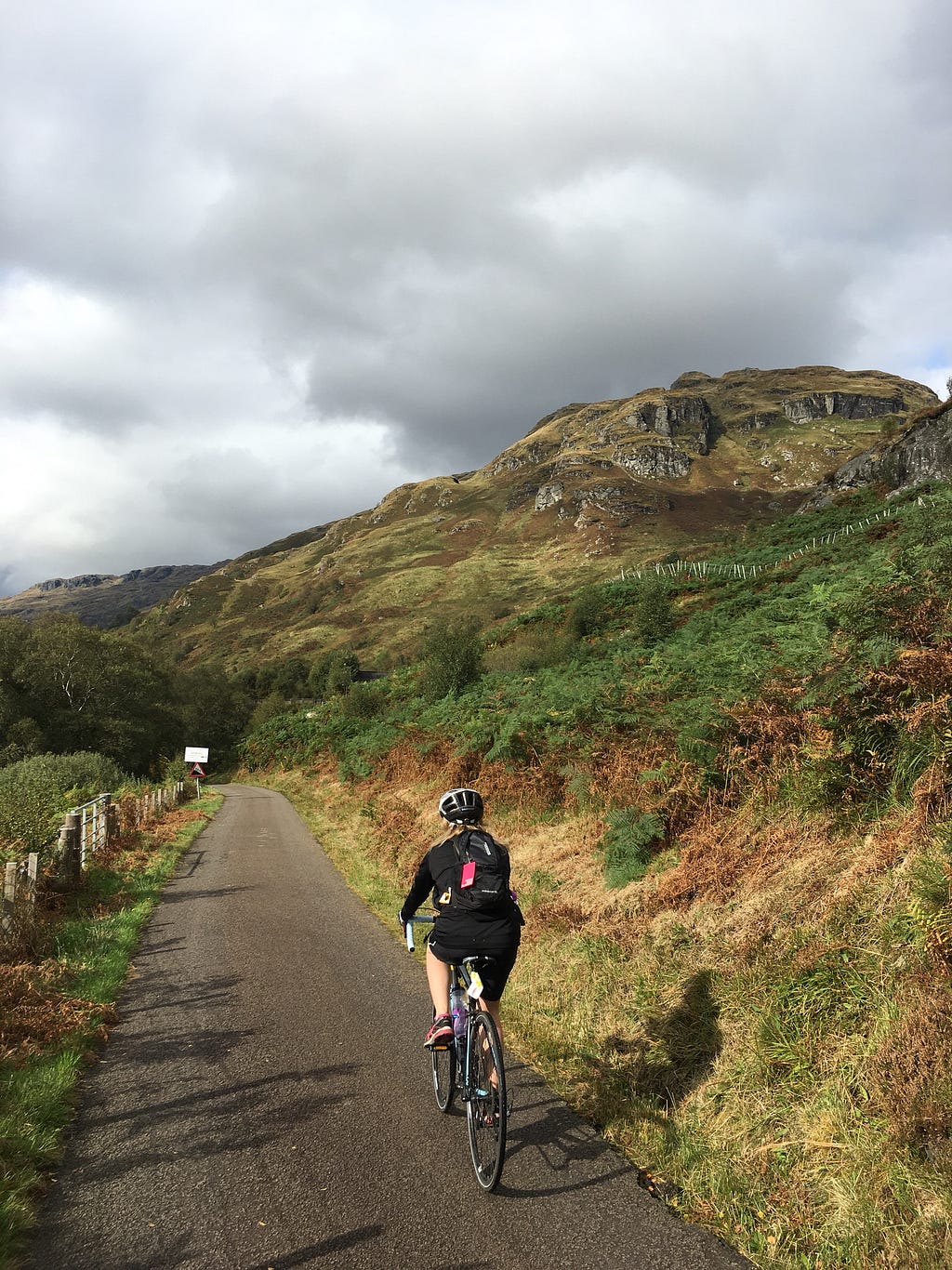 Disembarking at the pretty Trossachs pier we had time for a quick lunch at the Brenachoile Cafe and then we where on our way. Cycling on the road back to Inversnaid we were relaxed knowing we had a 3.5 hour window in which to reach our destination. We had been advised that the average cycle time for the route was 2.5 hours, so this gave us plenty of time for photos and pit stops.
There are no refreshment stops on the road to Stronachlachar so we made sure we had plenty of water with us.
As recreational cyclists this was perfect for us, undulating with some long uphill segments, and as soon as you felt your legs about to give up, the next corner would open up to a glorious downhill.
There were also lots of excuses to stop and take in the incredible views and as this is Rob Roy country, we were told to look out for historical signposts.
What we found to be especially welcome on this journey was the lack of traffic on the road. From the start we pretty much had the road to ourselves and in fact only passed one National Park Van the whole day.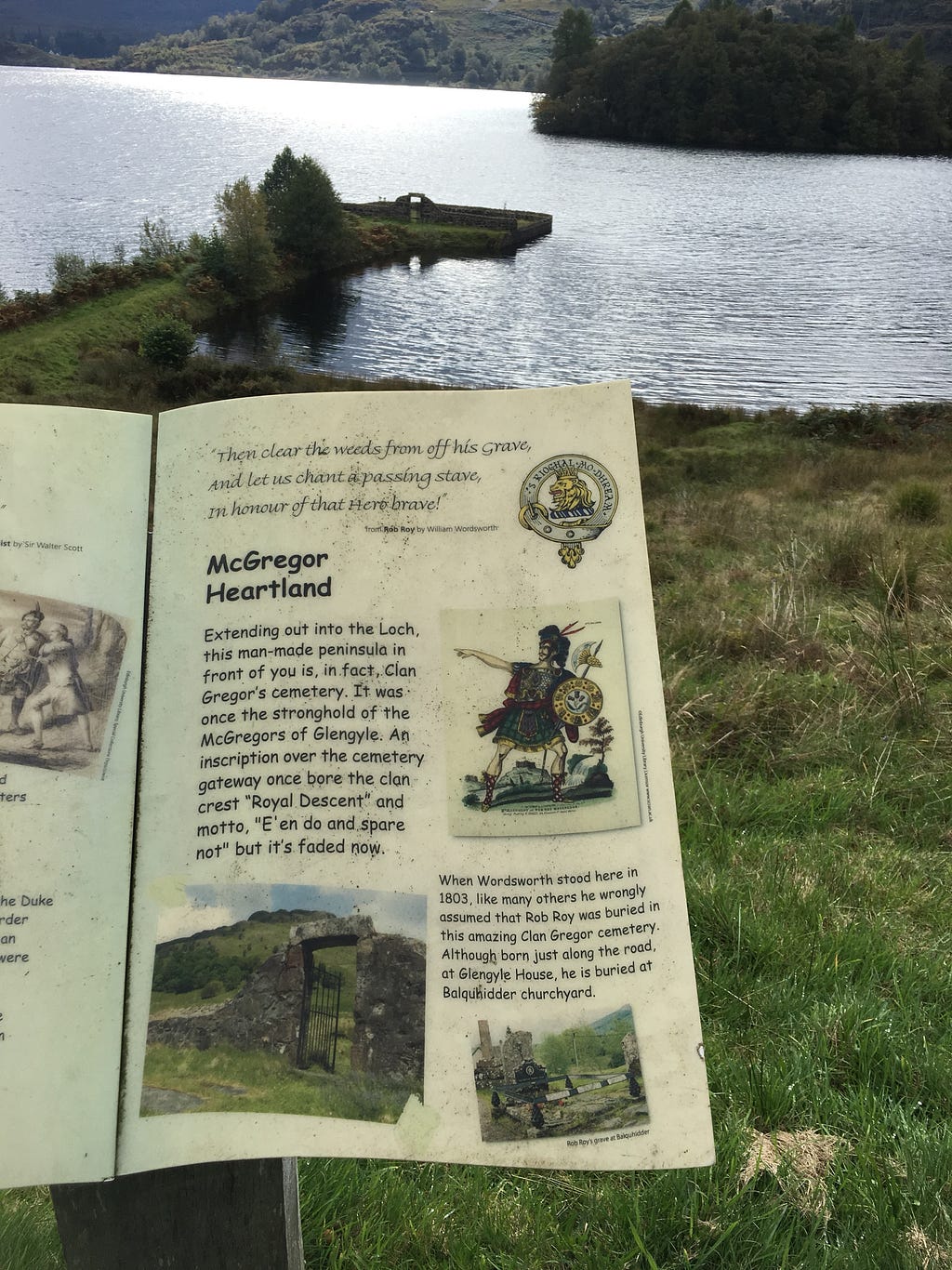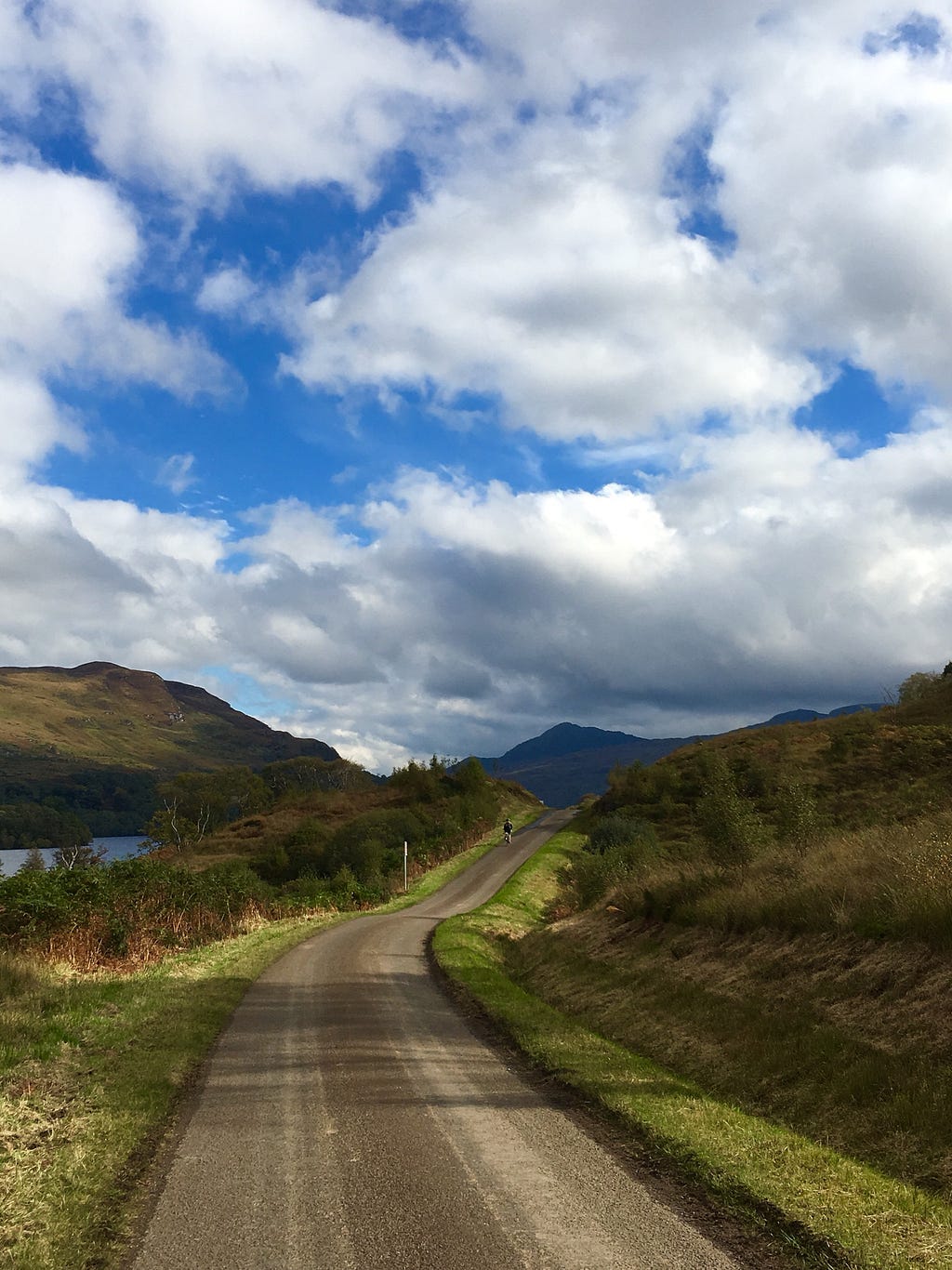 On the road home!
It's a bit of a sneaky section approaching the far end of the Loch, there's a good 5 mile section where you are looking across at Stronachlachar, teasing you with its proximity. Its almost a stones throw away and with no bridge (why would there be?) we pushed on, looking forward to a cold drink on our return trip back to Tarbet.
Catching up with skipper Archie on board we had that satisfied glow you get after a day of fresh air, beautiful scenery and exercise. We absolutely deserved the Loch Lomond Ale we had in our hands and we were soon chatting about when we would do it again. That's a sure sign of a good day out.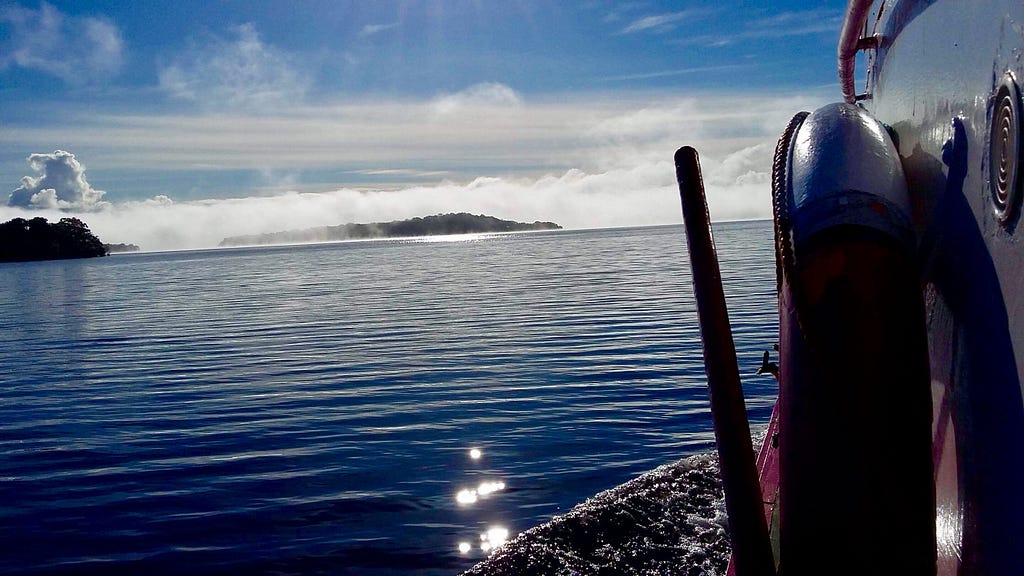 Tickets sold separately for the cruises and we advise you to book in advance to ensure a space.
Recommend for children 12+ who can cycle 33k
For more information and to book your tickets on the Two Lochs Tour go to:
wwww.lochkatrine.com or call 01877 376 315
wwww.cruiselochlomond.co.uk or call 01301 702 356